Marlene Dumas on Jean Auguste Dominique Ingres
One of the most gripping exhibitions I have ever seen was the Jean Auguste Dominique Ingres (1780-1867) retrospective in Paris, a few years ago.
The most beautiful of the many halls was the one dedicated to his portraits of ladies dressed in the fashion of that time, with dresses just as emotionally expressive as their facial expressions. I singled out the portrait of Josephine-Eleonore-Marie-Pauline de Galard de Brassac de Bearn, Princesse de Broglie [1], painted in 1853, precisely one hundred years before I was born. (This lady died aged 35, after her death her inconsolable husband kept the painting hidden behind a curtain). As is the case with all good portraits, not everyone agrees about what her expression means. According to her husband she was very religious and shy, he described her expression as one that reflected the perfection and purity of her moral character. But one critic characterized her expression as one of cold reserve and aristocratic contempt. It is true that Ingres' women usually appear very pensive, as if their thoughts are elsewhere, as if they are absent-minded. Clearly, they radiate more of Apollo's calmness than Dionysus' spontaneity. It is almost mask-like and so different from the equally masterful, but more intimate Vermeer's Girl with a Pearl Earring, who looks at her spectators with longing and full of desire. Josephine is far more aloof. Both paintings have blue and golden yellow as their most striking colours but where Vermeer's is gentle, warm and in soft focus, Ingres' focus is sharp.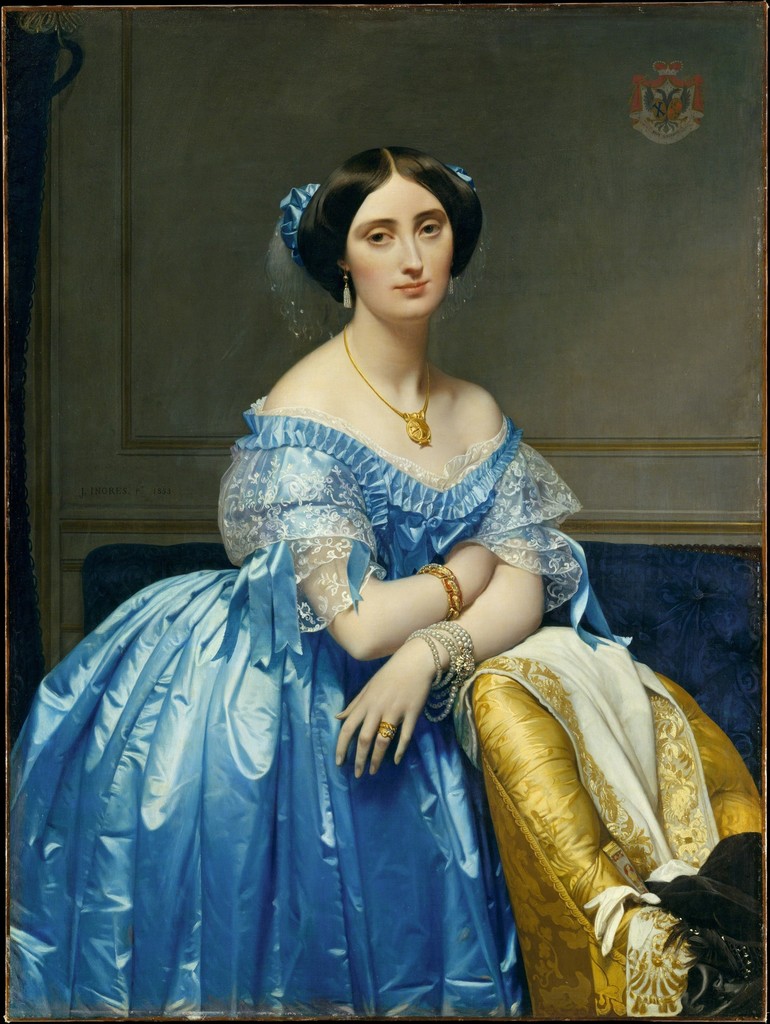 And yet I also see in her expression, qualities which Goethe attributed to blue, a colour which seems to both sooth and stimulate. 'Just as we enjoy looking at a pleasant object, not because it urges us to, but because it attracts us.' It reminds me of the shiver when I felt attracted for the first time to a (still) unspoken love. In English 'blue' stands for both depressing and transcendent things, for melancholy, sacredness and pornography ('blue movies'). John Lee Hooker said that with the creation of men and women "the blues began".
Because of her immaculate satin dress with so much blue, I go on an imaginary journey, to the East and to Africa. I even find myself in heaven: blue as the colour of distant longing of which the realization lies far away. Westerners have always wanted to go over the seas and later on, in the hereafter, to heaven. Blue also stands for going 'over the seas', going over the horizon. Once, ultramarine blue was the most highly-priced pigment, bar gold. The medieval word oltramarino means 'over the seas'. It was not just used for blue but also stood for 'imported' goods. This is how the Virgin Mary, the most painted woman in Christian art, acquired her blue cloak from the East. This most valuable blue came from Afghanistan, the semi-precious stone lapis lazuli from the mountains.
It is not just in European symbolism that blue is the colour of heavenly powers. The skin of the Egyptian God Amur is of a blue colour which enabled him to fly through the sky unseen. The dancing Krishna with his blue skin becomes even more seductive due to his contrasting Indian yellow loincloth. Ingres' princess also makes use of the alliance between yellow and blue, and of Europe and Africa. Across the arm of her chair hangs a white, gold-embroidered cashmere cloak of North African origin, which became popular in Paris during the French occupation of Algeria. The chair is upholstered with gold-coloured silk. Hope is somehow heavenly. Usually the halos of angels are golden yellow and their wings are blue.
I once wrote the following about Eros and death. 'It is so simple; Eros is about coming and death about going'. Ingres shows us the erotic domain, a sensual world of dazzling colours and flowing lines which is perceptible but inaccessible. You cannot take possession of what you see in a painting. You can only lose yourself in that which is not yours alone.
The painting shines due to a continuous intensity and concentration. Everything, every single detail, is equally important. The colours do not have a fixed identity. In fact, colour is the emission of energy and it is like everything in the universe: it trembles, vibrates and changes continuously and yet remains one. We keep forgetting this and that is why we are so afraid of death, until we stand before a work of art that radiates light. It gives me hope that death is perhaps not the most terrible thing that exists. This is not an idle, self-satisfied painting with an easy message of comfort. Ingres knows that it is impossible to paint a portrait of a woman (he said so himself). And this is the paradox, that he tackles this fearful realization with so much constant precision and love, without hope of reward.
---
[1] Portrait of Josephine-Eleonore-Marie-Pauline de Galard de Brassac de Bearn, Princesse de Broglie at Metropolitan Museum of Art.
---
Jean Auguste Dominique Ingres | The Portrait of Josephine Eleonore-Marie Pauline de Galard de Brassac de Bearn, Princesse de Broglie. First published (in Dutch) in Nexus, Nr.55, 2010, p.33-38; and included in Marlene Dumas, Sweet Nothings. Notes and Texts | On Others, second edition (revised and expanded) Koenig Books London, 2014 [Translated version of 'De kleur van hoop. Jean-Auguste-Dominique Ingres, La Princesse de Broglie'].
---